JEFFERSON CITY - For Terry Robinson, summer at the Lake of the Ozarks smells like her neighbor's leaking septic tank.
"We have some...neighbors, and in the summer when it gets real hot you can kind of smell it (their septic tank) once in awhile," Robinson, a lake resident, said.
Robinson's personal experience is one example of a larger trend of failing septic systems at the Lake of the Ozarks.
Local officials and residents point to a number of causes of continuing problems with on-site, or residential, septic systems. These include the high cost of maintenance, lax government regualtions, old septic tanks and variable soil surrounding the lake.
In Robinson's case, she said the property owners with a leaking septic have an illness in the family and have suffered financially as a result.
"I'm sure the reason they can't put in a new septic tank and they can't do anything about it is because to put in a new septic tank is not cheap," she said.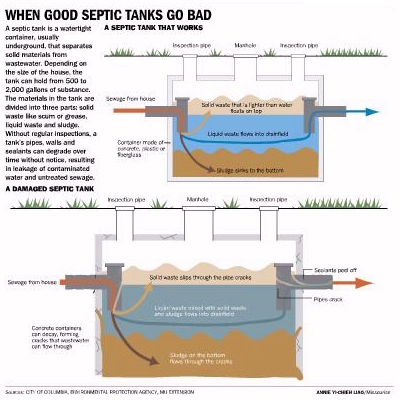 Pay up or pollute
As Robinson and other lake residents know, proper maintenance of on-site septic systems at the Lake of the Ozarks comes at a high price.
Robinson lives in Gravois Mills, where, according to the 2000 United States census, nearly a quarter of families are below the poverty line. According to a septic tank repairman at the lake, replacing a septic tank can cost as much as $35,000 -- more than the median annual income in the area. Even relatively minor maintenance procedures like pumping a septic tank cost around $200.
The village of Gravois Mills, located in Morgan County on the Lake of the Ozarks, is a microcosm of larger socioeconomic problems at the lake.
According to the U.S. census, more than ten percent of of the popluation in the four counties on the lake are below the poverty line. In Morgan and Miller counties specifically, more than 15 percent are below the poverty line.
Adding to the problem, neither state nor local governments in Missouri typically pay for or subsidize septic system maintenance and replacement. Instead, homeowners are left to foot the entire bill or, in the cases of many low-income homeowners, septic maintenance is simply ignored.
It is an issue issue that frustrates some area officials like Tracy Rank, an environmental public health specialist for Benton County at the Lake of the Ozarks. It is Rank's job to ensure area residents adhere to state regulations relating to septic systems, but she says her ability to force a homeowner to comply is limited.
In even the most severe cases, Rank said she can do little more than mail the offending homeowner an order to stop polluting.
Rank has encountered a number of severe cases of noncompliance. In one instance, Rank said she saw a homeowner empty a septic system directly into the lake using a ShopVac.
At the Lake of the Ozarks, Rank said that woman's actions are not entirely unusual.
"In my capacity, you see a lot of nasty stuff," Rank said. "You've got some people who just can't afford to do anything different, and I think that is a huge problem that we have in the state of Missouri. There is nothing solid in place to help economically challenged people to fix things."
In some cases, Rank said families are forced to choose between keeping their home or maintaining their septic system.

"I have one family right now that has to abandon their house because they cannot afford to fix the septic," she said. "I have a job to do, and I say, you have to stop polluting, but the only way for them to stop polluting is for them to stop using water, so they're going to leave their house. There's no money available to help them."
Grandfathered in
It is no coincidence that lake residents are suddenly facing the daunting economic prospect of replacing failing septic tanks. A 1996 revision to an existing law effectively exempted old septic tanks at the Lake of the Ozarks from compliance with new regulations.
The revision required that septic systems be built to a new, stricter code and be inspected at the time of a home's sale.
Older septic tanks, however, were allowed to remain in place until the sale of the property and without being altered to meet the new state regulations.
It was a change intended to clean the lake, but Jim Miller, Morgan County environmental public health specialist, said the law may have only complicated sewage management there.
"These last couple of years most of our permit applications have been for tank replacements because when the sewage ordinance went in ... anything that was existing at that time was grandfathered in as long as it was working okay," Miller said. "A lot of those old systems had small steel tanks that we won't allow now, and those tanks are deteriorating and need to be replaced."
Miller said tanks that have already been replaced may only be the beginning; soon, many more may require replacement.
"There's been a lot of them replaced, but there's still a lot of old tanks out there that will need to be replaced at some point in the future," Miller said.
From weekenders to full-time residents
The surge of tank failure predicted by Miller could become reality as more people move to the Lake of the Ozarks as full-time residents.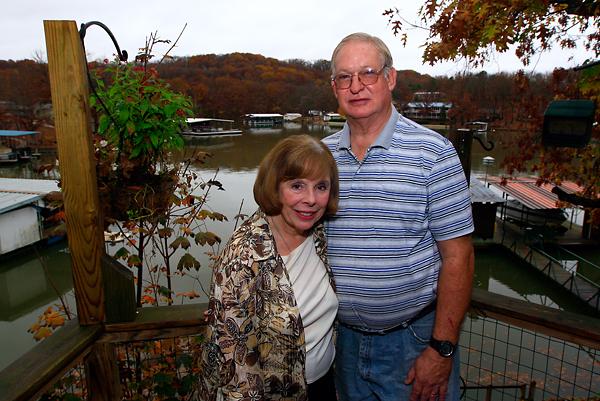 Carroll and Mike Rinker stand for a portrait on their deck, which faces one of Lake of the Ozarks' finger coves, on Thursday, Oct. 29. Because the Sunrise Beach area has no central water filtration and treatment center, the Rinkers spent about $10,500 to install a septic system that drains water into the ground directly above the lake. |
Chris Dunn
Lake residents Mike and Carroll Rinker know firsthand the cost of dealing with an old septic tank.
The Rinkers' home has been in their family since the 1960s, when Mike Rinker's parents purchased the home as a vacation residence. They eventually inherited the property as a second home.
When Mike Rinker retired in 2001, the family made the move from Kansas City to the Lake of the Ozarks.
At the time, the septic system buried on the property was as old as the home itself, and the Rinkers were faced with wastewater problems soon after moving to the lake full-time.
"The old septic tank was an old cinderblock tank, very small, that went out to a gravel pit, and the gravel pit got clogged up and wouldn't take water anymore," Mike Rinker said. "The little water that got out was leaking through the tank."
Replacing the tank cost the Rinkers about $10,000 at the time. Now, they worry that others will have to pay a similar cost as they establish primary residences at the lake, if they are able to afford the cost at all.
"We're getting too many people around this lake with septic tanks, and a lot of them have old septic tanks that are feeding polluted water into the lake," Mike Rinker said. His wife, Carroll, added, "It's the age of this lake and the age of the septic tanks that have been built here that need to be replaced."
Soil and sewage
Mike and Carroll Rinker said they think using septic systems for wastewater management will become increasingly difficult as the lake becomes more crowded.
Indeed, some people estimate the lake could experience significant population growth in the near future.
Donna Swall, executive director of the Lake of the Ozarks Watershed Alliance, a nonprofit environmental organization at the lake, predicts a surge in retirement could send the number of full-time residents at the lake skyrocketing and have negative effects on septic tanks.
"We do know that they (retirees) will be going to these places they've had for years or their grandparents' place, and there could be a pretty old septic there," Swall said. "Maybe it's only used two or three times a year now, but once they move in permanently and the septic is used all year, then we could have an issue."
Carroll Rinker says an increase in full-time residents could also present problems for people with small lots who need to install larger septic tanks.
"Let's say the people next door need to replace their septic system," Carroll Rinker said. "Where are they going to put a tank bigger than a couch? They don't have the room to put the amount of laterals they need to run to make that water safe. So even if they had the $20,000 to replace it, where are they going to put it?"
Mike Rinker added, "They don't have hardly any ground, so they can't put in a true septic tank. They're kind of between a rock and a hard place."
Inconsistent soil characteristics at the Lake of the Ozarks can make it difficult to find enough usable soil for a septic system.
Randall Miles, an associate professor of soil science at the University of Missouri, has been studying the interplay of septic systems and soil at the Lake of the Ozarks for nearly 20 years. He said incompatible soil types are one of the reasons septic systems create sewage problems at the Lake of the Ozarks.
"The soils there are quite variable in the fact that some may be very deep, some are very shallow, and whether it's deep or shallow, they might still have some limiting characteristics for utilization of an on-site wastewater system," Miles said. "The fact that the underlying bedrock may be cracked or fissured, the soil may be shallow or, perhaps, the system wasn't put in right ... and because of the poor installation or poor maintenance you get a poor performance."
Often, Miles said, even switching to a septic system compatible with soil quality can be confusing for some homeowners.
"If somebody is used to something they put in 50 years ago that was a 55-gallon drum and a few feet of pipe, the cost of this is quite different," Miles said. "It's kind of like going from a bicycle to a Cadillac; it does the job and it does it very well, but it requires money and it does require maintenance."
Tomorrow, this series will examine the bureaucracy behind on-site wastewater management at the Lake of the Ozarks.